Jamel Shabazz
By Todd Whitney
Police brutality protests gripped New York City in the late 1990's. From 1997-1999, thousands of protesters and activists hit the streets to bring attention to Mayor Giuliani's heavy-handed policing tactics toward communities of color.
Fresh incidents of police violence added to the already tense environment of the time. African American photographer Jamel Shabazz made it his mission to document the outrage and protest that defined the era.
Shabazz started taking photographs as a young man to document daily life in his native New York City. In 1983 he became an officer in a correctional facility near New York's City Hall. He used his lunch break to escape the stresses of working at one of the city's busiest criminal intake facilities—but those breaks were often interrupted by the protests.
Shabazz approached the protests from a unique position: as an Black American, he could relate to the protesters' grievances—but as someone who worked in law enforcement, he understood that not every police officer was always motivated by racism and prejudice. Shabazz began documenting the protests, as well as various aspects of prison life, to tell a more complete story.
Jamel Shabazz has since become one of the world's most notable hip-hop photographers. But he also sees it as his responsibility to mentor young people. He uses his lens to not only document the urban culture in which he grew up, but to tell his subjects that they are worthy of being photographed.
Watch Shabazz's stories below. Browse at your own pace using the <  >  buttons.
Join a town hall meeting to explore complex issues surrounding Michael Brown's death.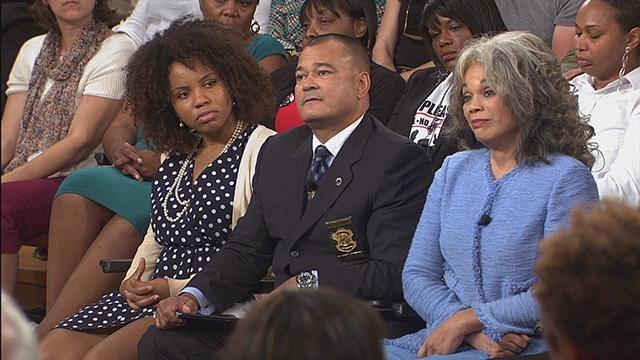 Police representatives from three big cities discuss the police response in Ferguson.
Has America delivered on demands for Jobs, Freedom, Equal Education and Voting Rights?